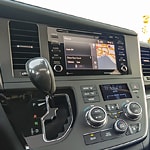 Who wouldn't want to have the most comfortable vehicle that they can reasonably afford? That is what the people at Toyota wanted to know, and that is why they designed the Toyota Sienna for maximum comfort at all times. Get in this vehicle and you will know right away that you have made a life-changing decision.
There are many rows of seats to carry the whole family along with you. On top of that, those in the passenger's seats can enjoy Blu-Ray entertainment on the dual view screens that show into the passenger's seats. Then, if you have fewer people riding along with you it is possible to fold down the back row of seats for additional cargo space.
Toyota continues to innovate like this to make sure its customers get the most bang for their buck when it comes to comfort and quality of the ride. They have done excellent work at it.