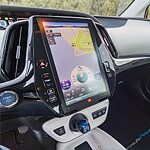 The 2020 Toyota Prius is a hybrid vehicle. It is easy to maneuver in and out of town. The striking exterior features are one of the reasons that people decide to choose this car. It also has a variety of interior features that will make your drive a lot more convenient.
Driving will be a lot safer because the vehicle has a blind spot monitor. It works when you use your turn signal. If it senses that there is a vehicle in your blind spot, then the indicator light on the outside of the window will flash.
This car also has available color head-up display. You will be able to see your speed and hybrid system indicator info on your windshield. Additionally, you will also be able to see directions. This feature will allow you to keep your eyes on the road. Make a trip to the dealership if you want to test drive the vehicle.