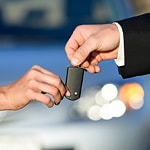 The cost of owning and maintaining an automobile can be a challenge for some people. This is especially true if you've purchased a vehicle that was out of your budget. Now that you've had to pay your monthly bills for a bit, you may be thinking about lowering your payment amount in some way. Graham Toyota in Mansfield, OH provides you with the opportunity to refinance your automobile, or you can choose to trade your car in.
Refinancing your vehicle restructures the loan that you have so the amount you pay monthly is lower. The interest rate may change, or the term of your loan may change.
Trading in your vehicle is also an option. We can take a look at your vehicle and provide you with a fair and accurate trade value. That money could be used towards the purchase of a different vehicle that's more affordable than what you currently own.